The Perfect Choice
Homestyle Cookies are not just cookies. These are authentic wire-cut cookies — light, crunchy and delicious — with the goodness of a home-made product.
Be it breakfast, a coffee-break or evening tea, Homestyle Cookies are always the perfect choice.
The ingredients used are natural and wholesome. No synthetic emulsifiers, colours or preservatives are added. What is more, vegetarians too can enjoy these cookies as they are eggless.
The special packaging made of foil-based laminate ensures that the cookies stay oven-fresh for over six months.
The fabulous taste of Homestyle Cookies makes them a great favourite to one and all.
Our Clientele

The Oberoi Grand
ITC Hotel
Taj SATS Air Catering Ltd
Oberoi Airport Services
Aero Art Emporium, Kolkata Airport
HP Speedmarts
Starmark outlets
Haldiram Food City Super Market
Calcutta Club Convenio
And other select malls & outlets
Variants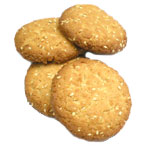 Sesame Crisp
Full of roasted sesame seeds, these cookies give thrill to your taste buds.